About Jan Dvorak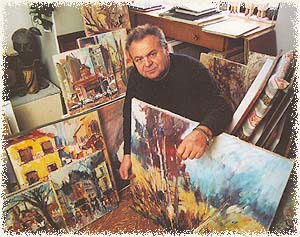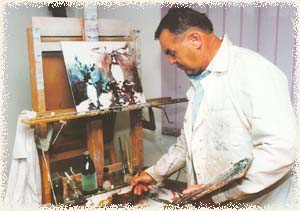 Jan Dvorak was born on December 18, 1942, in Tabor, Czech Republic. He studied art and aesthetics at the Faculty of Arts of Charles University in Prague. His works can be found in galleries and private collections both at home and abroad, e.g.. in Austria, Australia, Japan, the U.S.A. and Germany.
Mr. Dvorak has been influenced especially by both French and American Impressionist painters.
He has been a member of the Czech Association of Artists since 1971, a member of the Union of Artists Association of Central Bohemia since 1990. and a member of Collegium 90 in Hamburg since 1990.
Exhibitions Abroad:
1975 - Novi Sad, Yugoslavia
1983 - Towo Art Center, Tokyo, Japan
1984 - Frankfurt, Germany
Nuremberg, Germany
Zurich, Switzerland
1985 - Warsaw, Poland
1986 - Boston, Massachusetts, USA
1991 - Lichfelst, Wunsiedl, Germany
Zurich, Switzerland
1992 - San Pietro in Casale, Italy
1993 - Pulkau, Austria
1994 - Hamburg, Germany
1995 - Collegium 90 - France, England, Denmark
1996 - Busseto, Italy
1997 - Calgary, Canada
2002 - Southern Czech Region
2003 - Keshkomet, Hungary
2004 - Castle Valtice, South Moravia
The works of Jan Dvorak
Jan Dvorak is the student of Cyril Bouda, Karel Lidicky, and Martin Salcman. Mr. Dvorak's pictures are well known not only in the Czech Republic, but also abroad, where they are on view in local galleries and private collections. The name Jan Dvorak is also referred to in the Japanese Catalog of famous European artists and his membership in the association of artist Collegium 90 is worthy of mention, as well.
The world perceived by Jan Dvorak is full of color and harmonious atmosphere. The artist expresses his warm attitude to nature, people and the results of their work. His artistic intimation is very distinctive, rich in its expression, accomplished in its technique, and cultivated to a high standard. We feel a joyfull mood emanating from the pictures, a desire to grasp and depict every motive in accordance with the artist's intuition; a desire to have the viewer experience a sensual enchantment.
In Mr. Dvorak's works, we also see the Czech Highlands with the vanishing architecture so typical for this landscape. The artist endeavors to express various tones of color changing in the daylight. In smaller oil paitings on structural canvases, we admire beauty spots of the Sumava Mountains with their old trees and bubbling brooks. The freshness of color is achieved by the sharp contrast between white, dark green, and gray tones.
A warm feeling is evoked by the paintings of sunrises, where grasses in pretty shades of brown contrast with the white vastness of the sky. Other pictures of the Sumava landscape attract us by their typical richness in colors, where ochers and brown hues contrast with ultramarine and azure blue.
Dozens of other paintings depict the places well known to the artist. It is the Czech Highlands interwoven by the River Sazava and its valley. It is the landscape below the sacred mountain of Blanik; the surroundings of Lipnice, the Sumava Mountains, Southern Bohemia, Palava. Here, we appreciate the evoke a feeling of joy. But Jan Dvorak looks for his inspiration outside of the Czech Republic, as well. Lately, he has taken trips to Denmark, Farnce, Austria, where he has regularly visited Krimmi, Gerloss, and Innsbruck, and most recently the United States, where he spent time visiting and sketching the Amercian West.
We look at the pictures and experience a sensation of magic, fascination, and great charm. Our ability to see and understand enables us to perceive colors, the depth of space, changing moods, and the spell, which was created by the artist just for us.